8 Ridiculous Desktop Toys & Gadgets To Give Your Brain A Break
Have to

 be at your desk for 8+ hours a day? The fun items on this listicle could bring a smile to your

 face

.

 If there's something here you decide you just

 Must Have

, we've provided links to the product websites.  If you click on the link and make a purchase, Beasley Media Group may earn a commission.  Have an idea for a fun theme for a gift idea list you'd like us to create?  Drop us a line at 

shopping@bbgi

.com.
Whether you're at home or back in the office, we all need a little brain break during our day. Some people find fidget devices to be an effective way to do this. So here are some of our favorite desktop toys and gadgets that can help you give your hard-working brain a break.  There's also the added bonus of your desk becoming the place all the cool kids hang out for their afternoon break.
Doubling as both a stationery set and a tiny putting green this is the perfect desktop toy for the avid golfer. You can spend a little time writing with the putter before switching over to a much-needed break putting a few mini golf balls.
Get it now from iwoot.us.
Wanna relive your childhood for a few minutes? This mini–Pac-Man Arcade Game is not only a super cool desk decoration but a working game! "It has original sounds and gameplay, a color screen and arcade joystick," so you're sure to be pulled right back in with the nostalgia.
Get it now from iwoot.us.
Step right up with this Strongman Game. Pass the time by testing your strength right at your desk. You might be surprised by how strong you really are and no it doesn't involve carrying boxes of copier paper.
Buy it now on IWOOT.
A classic game that everyone in the office is sure to love. This desktop ring toss doesn't take up a ton of space but is sure to help you pass the time when you need a brain break.
Get it now from IWOOT.
Okay, we couldn't help ourselves with this one. Not only is it absurdly pink, but it can help cleaning your keyboard?! That's a win in our book. Plus, it bends to fit in some of those awkward spaces, like that spot behind your monitor.
Buy it now at iwoot.us.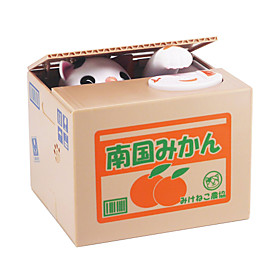 It's one thing to have a piggy bank, it's another to have a piggy bank where a tiny mechanical cat comes out and steals the coin from you. This little gadget is one of those must-haves that will have everyone laughing over the first time they see it in action.
Get it now from LightInTheBox.
Get ready takes thumb-wars to next level. Enter the ring with your chosen opponent and compete in the ultimate feat of strength in your office. This desktop thumb wrestling kit comes with a mini ring and four thumb costumes. It makes the perfect distraction tool for when you need a brain break.
Buy it now from IWOOT.
Lastly, one of our favorite candles on the market. We all have those meetings that just feel so pointless. Here's a candle that perfectly fits that feeling.  As a matter of fact, we can think of few people who might be getting this candle in the office Secret Santa exchange.
Buy it now from Perpetual Kid.
Taking time to have a little brain break at work can be very beneficial for your productivity. We hope that these desktop toys and gadgets not only bring you joy but also help you when you need a bit of a distraction from your never-ending to-do list.
Please note that items are in stock and prices are 

accurate

 at the time we published this list.

 

Have an idea for a fun theme for a gift idea list you'd like us to create?  Drop us a line 

at s

hopping@bbgi.com

.
Sign me up to for the BENefits Club email newsletter!
Make sure that you're a member of one of Philadelphia's most fun groups: The 95.7 BEN-efits Club to get concert and contest info, local and music news, and so much more straight to your inbox!
By clicking "Subscribe" I agree to the website's terms of Service and Privacy Policy. I understand I can unsubscribe at any time.